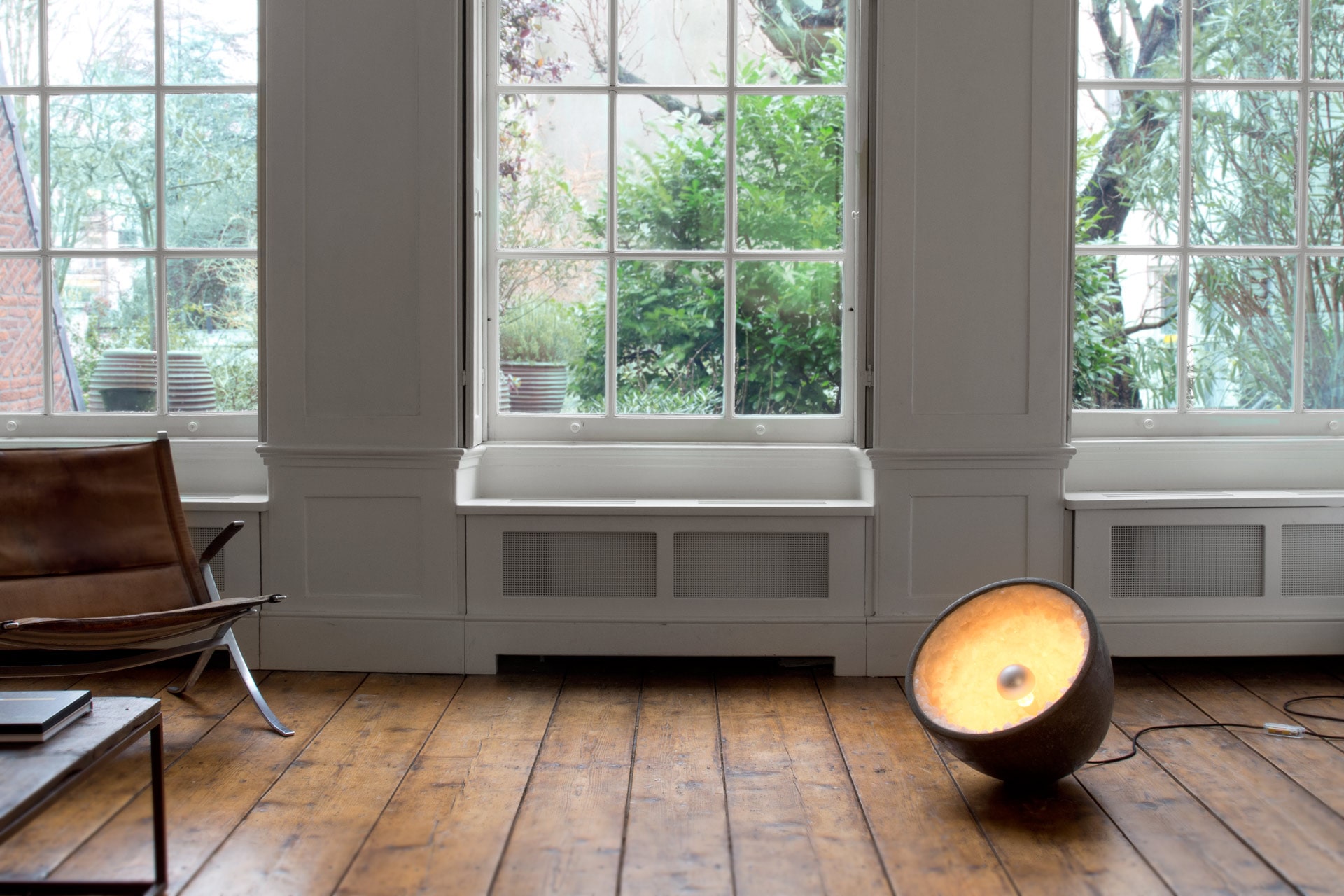 OVALIT
sculptural floor lamp
STATUS: Product, 2014
DESIGNER: Miklós Leits 
Ovalit is the first of a series of stunning sculptural lamps designed by Miklos Leits, Hungarian architect-designer and hand crafted in collaboration with Pieter Kout.
Ovalit is intended to enhance ambient moods through its comprehensive yet subdued light and powerful tactile materials. The form of the Ovalit derives from a thousand year old phenomena called a geode, whereby crystals form inside the cavity of sedimentary and volcanic rocks.
The light that radiates from the Ovalit can be adjusted to offer anything from a bright silky white light to a deep golden glow. The soft light that is reflected in the crystal filled cavity offers an eye-catching softness that contrasts with an otherwise hard material.
All crystal fragments originated from Brazil and individually positioned by hand, this makes each Ovalit unique. Further more each Ovalit of the 50 piece miniseries is embossed with a unique serial number on the composite shell to guarantee its originality.
Technical details: diameter 50 cm, length 40 cm, 230 V, dimmable max 60W E27 bulb.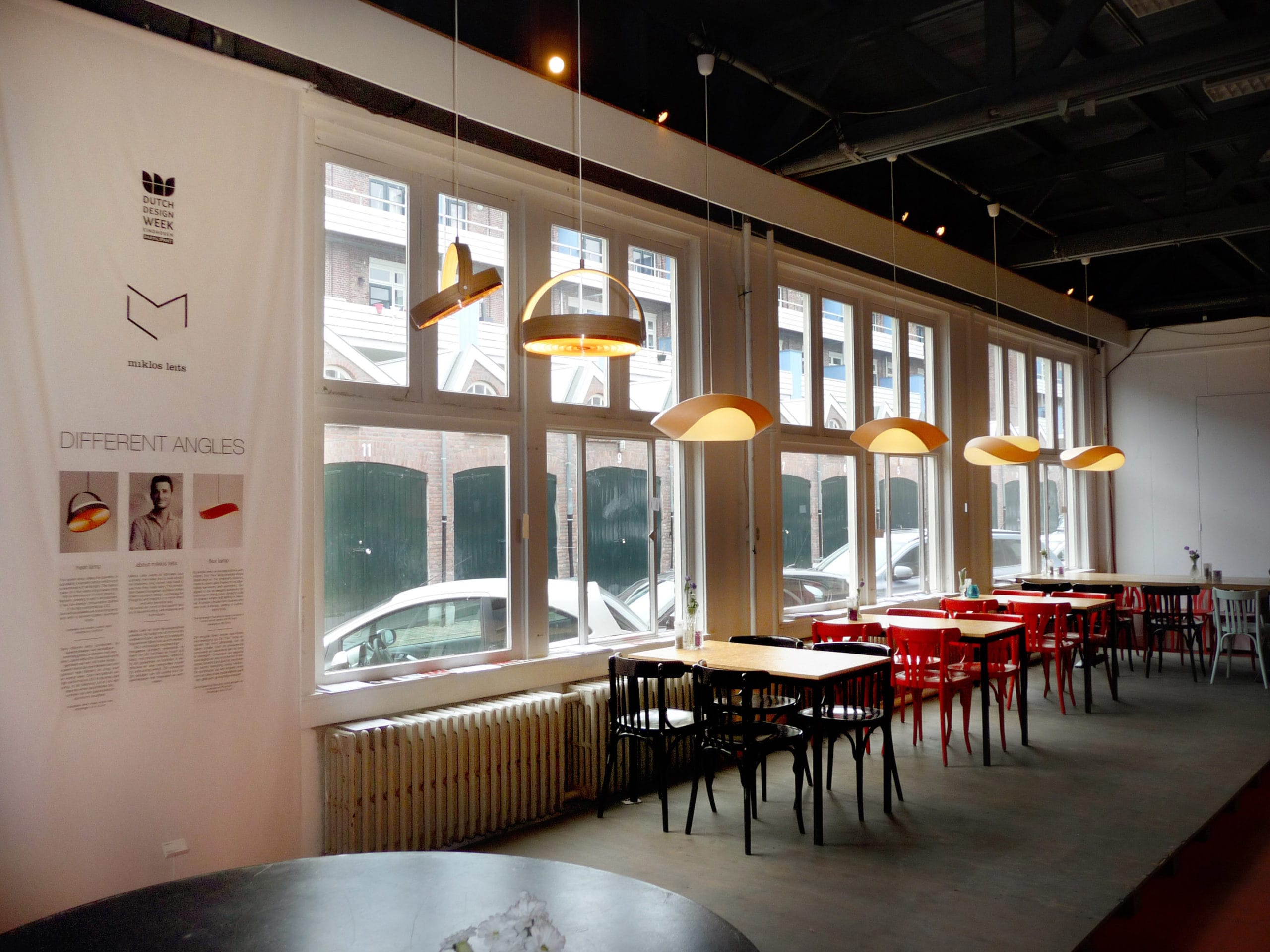 FLEX
Pendant
STATUS: prototype 2015
DESIGNER: Miklós Leits
Its simple lines evoke associations with motion. The "Flex" lamp changes shape depending on the observer's position, made to seem alive thanks to the alternating symmetry and asymmetry. Designed to be an elegant accessory for the living or dining room, the lamp suits for spaces where soft lighting is needed. A simple circular form clashes with two oval surfaces, yielding a curved, wavy body. 
The lightweigth Flex lamp is made of a band of curved wood veneer and PE foam.
dimensions: 60/20cm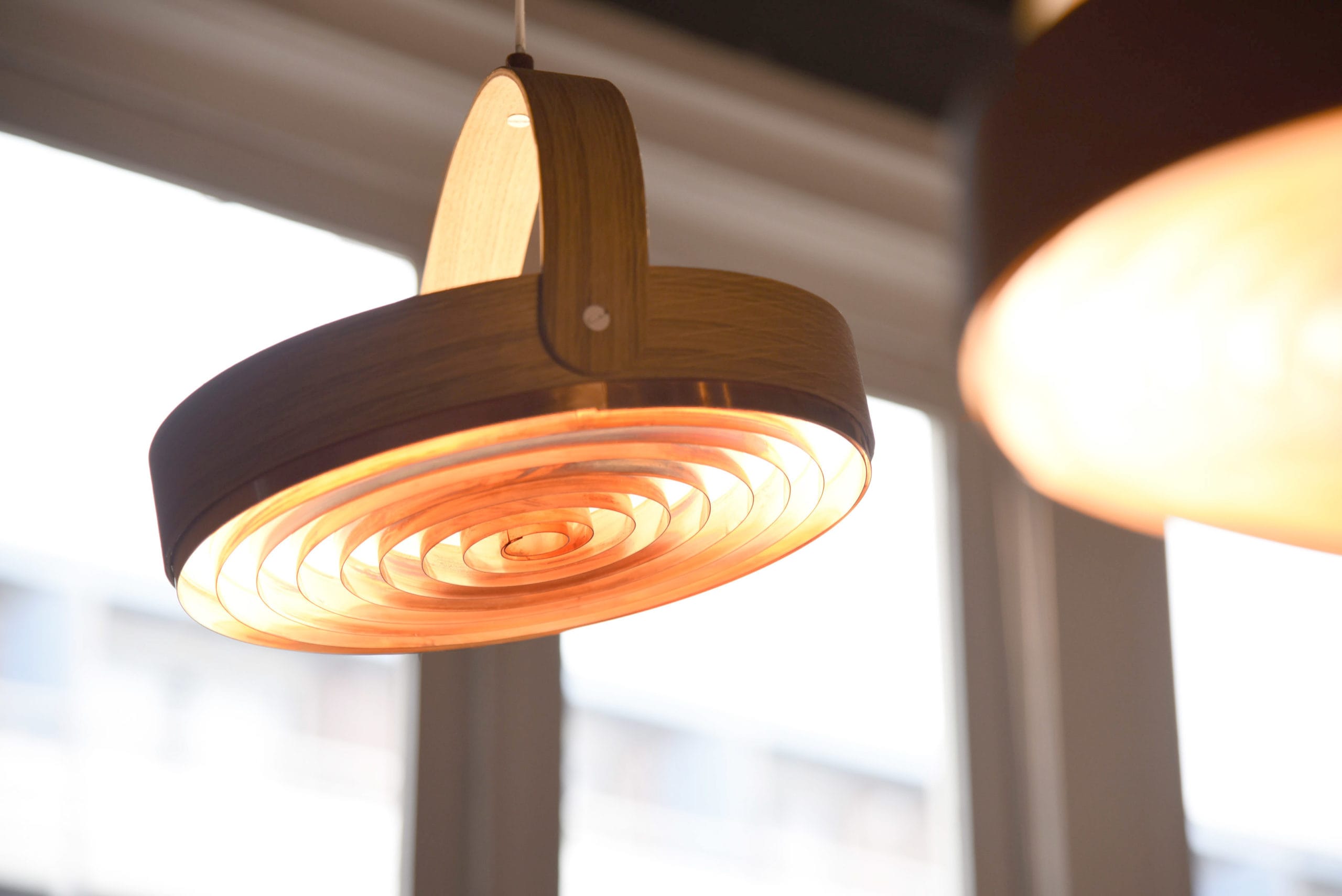 HEAT LAMP
Pendant
STATUS: concept and prototype looking for manufacturer, 2015
DESIGNER: Miklós Leits
This stylish lamp offers the benefits of adjustable cinematic lamps which emit a directional soft white light. The helix is made of a five metre long red copper strip that is reminiscent of a hot glowing filament, creating a warm atmosphere. It has low energy consumption thanks to its high-performance LED. Also will be available as a standing lamp and with a powder-coated aluminum body.
materials: laminated wood with oak veneer, copper, resin
dimensions: 30/30cm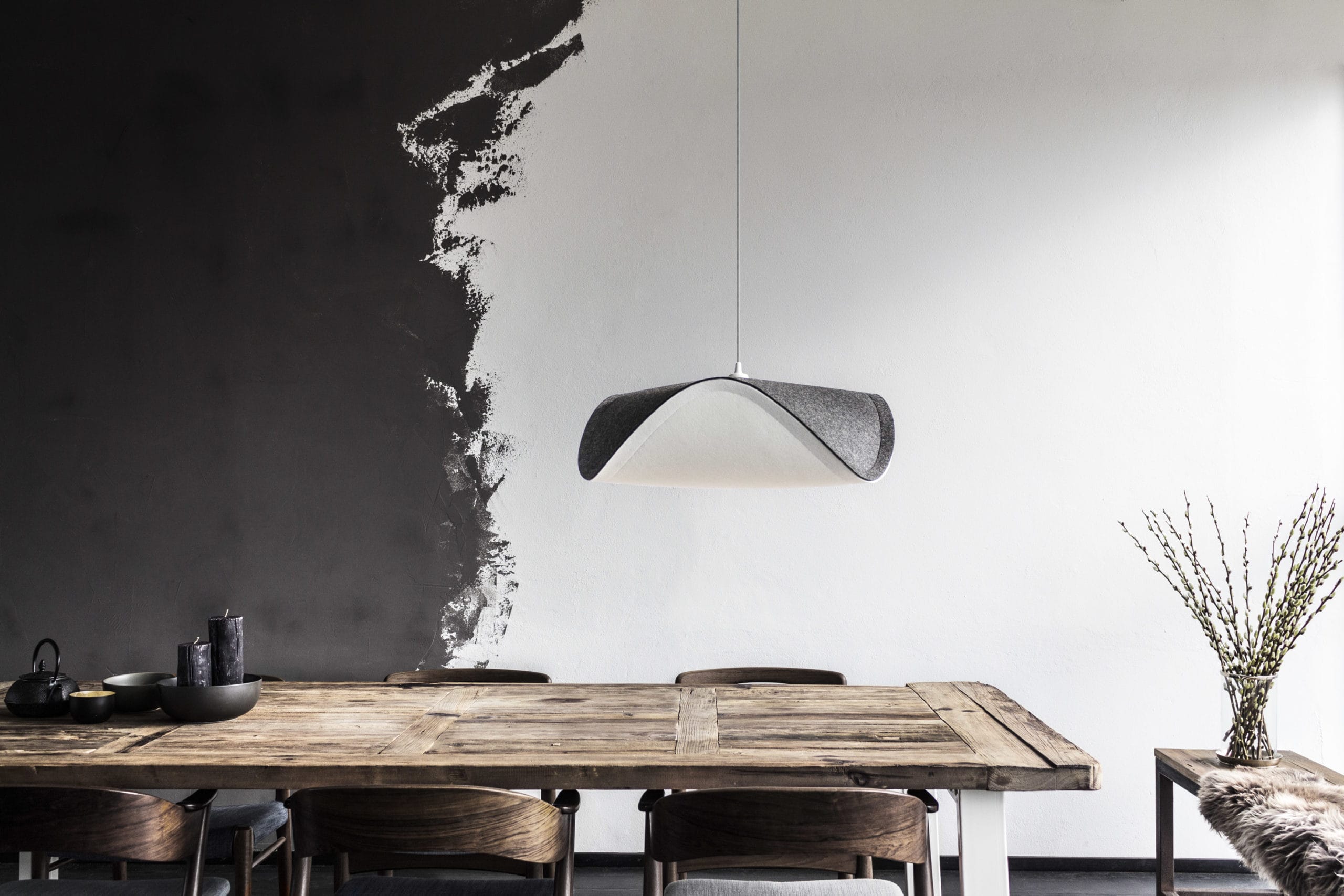 SINE FELT GREY
STATUS: product 2016 by UMAGE
DESIGNER: Miklós Leits
Sine Felt pendant
This timeless contemporary piece is reminiscent of the perpetual oscillation of a smooth sine wave. Depending on the position of the observer the shape of the lamp constantly alternates between symmetry and asymmetry making it seem alive. This fascinating lamp comes as flat pack that anyone can assemble without the use of any tools or glue. Zippers along the edges enable the user to easily transform the 2D flat components into the stunning 3D shape. Sine lamp was designed with the intention to prevent unpleasant glare from the light source, therefore the light bulb is fully embraced by the interlocking light diffuser plates, lending an extraordinary softened light to any space. Due to its subdued and sleek shapes the Sine lamp is meant to compliment a wide range of interior styles.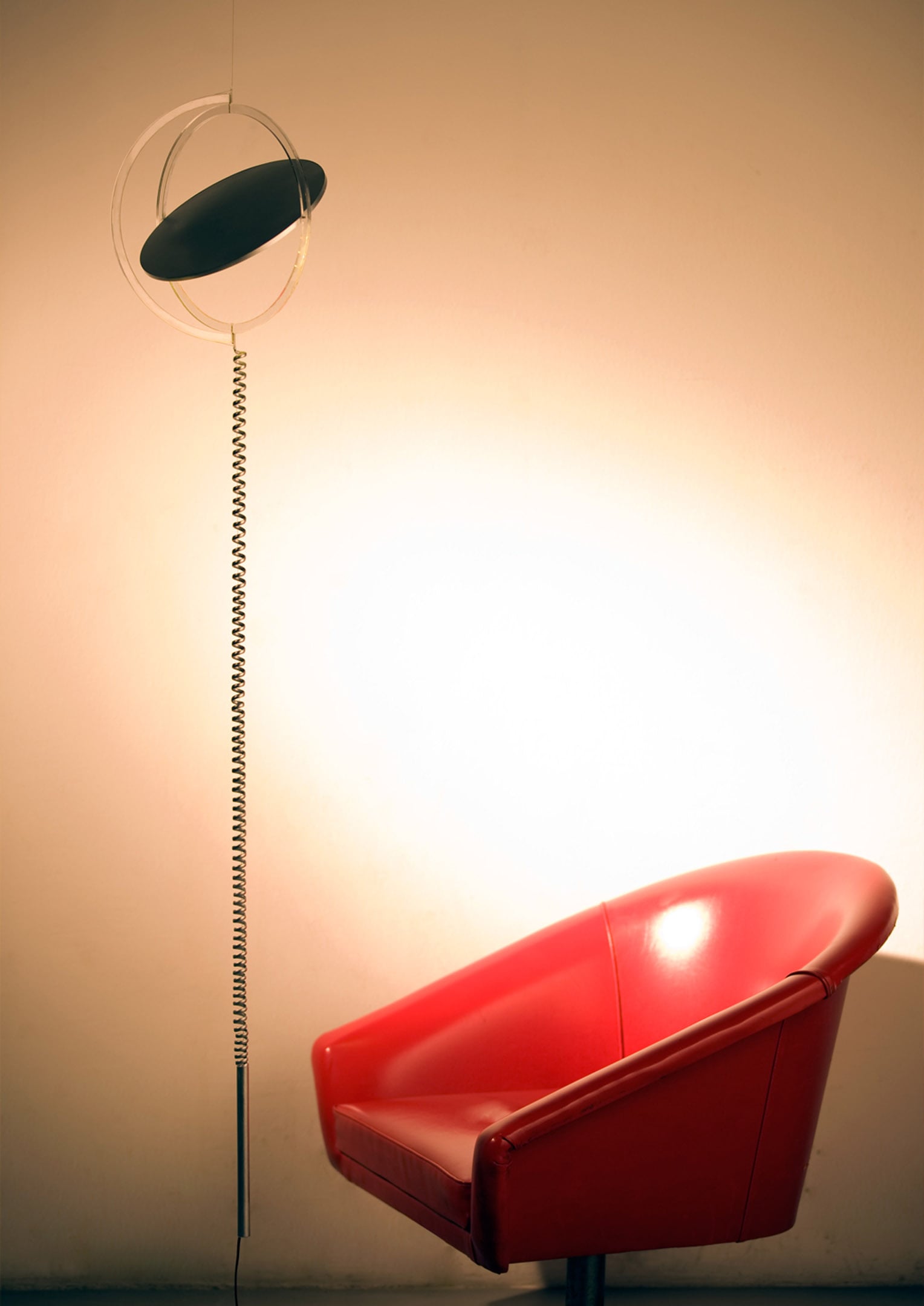 GYROSCOPE LAMP
suspended lamp with adjustable height and direction
STATUS: concept and prototype, 2012
DESIGNER: Miklós Leits
The "hovering" lighting disc is able turn in any desired direction due to its gyroscope-like supporting frame.  The lamp shade appears to be standing on a spiral stem at first sight but a closer look reveals a thin, transparent, nylon string suspender. A dedicated spot in the living area is required for this piece as it needs to be suspended from a fixed point. The nylon string which the lamp hangs on is kept taut by the bottom weight, this helps to keep the lamp's desired and customisable height.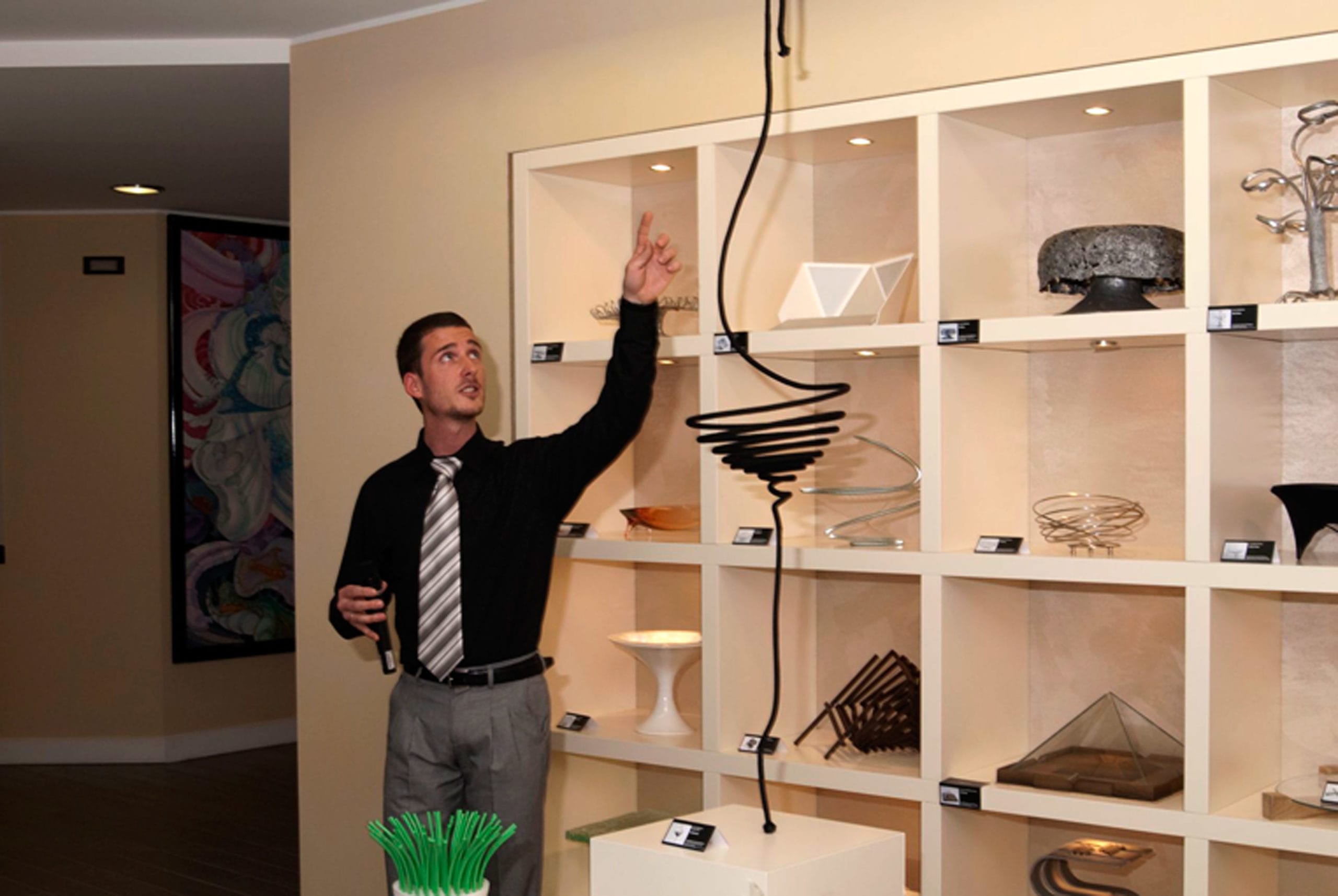 STEMMED FRUITBOWL
1.st prize winner ART ZEPT international design award 2010
STATUS: concept and protype
DESIGNER: Miklós Leits
Take a closer look at a grapes tendrils. They are so graceful and amazingly strong due to their spiral structure. The design of this fruitbowl is inspired by that nature using rescaled tendril in the desired size. This is a suspended bowl,  As the freehanging  bare rope runs downward forming a spiral it appears as a 3 dimensional graphical element.  The possibilities and applications for this bowl are diverse because it can bear up to 7kg of weight, be it childrens toys or grandma's yarns, not only fruits. This unique holder consists of nine meters of black mooring and five meters of iron inner support.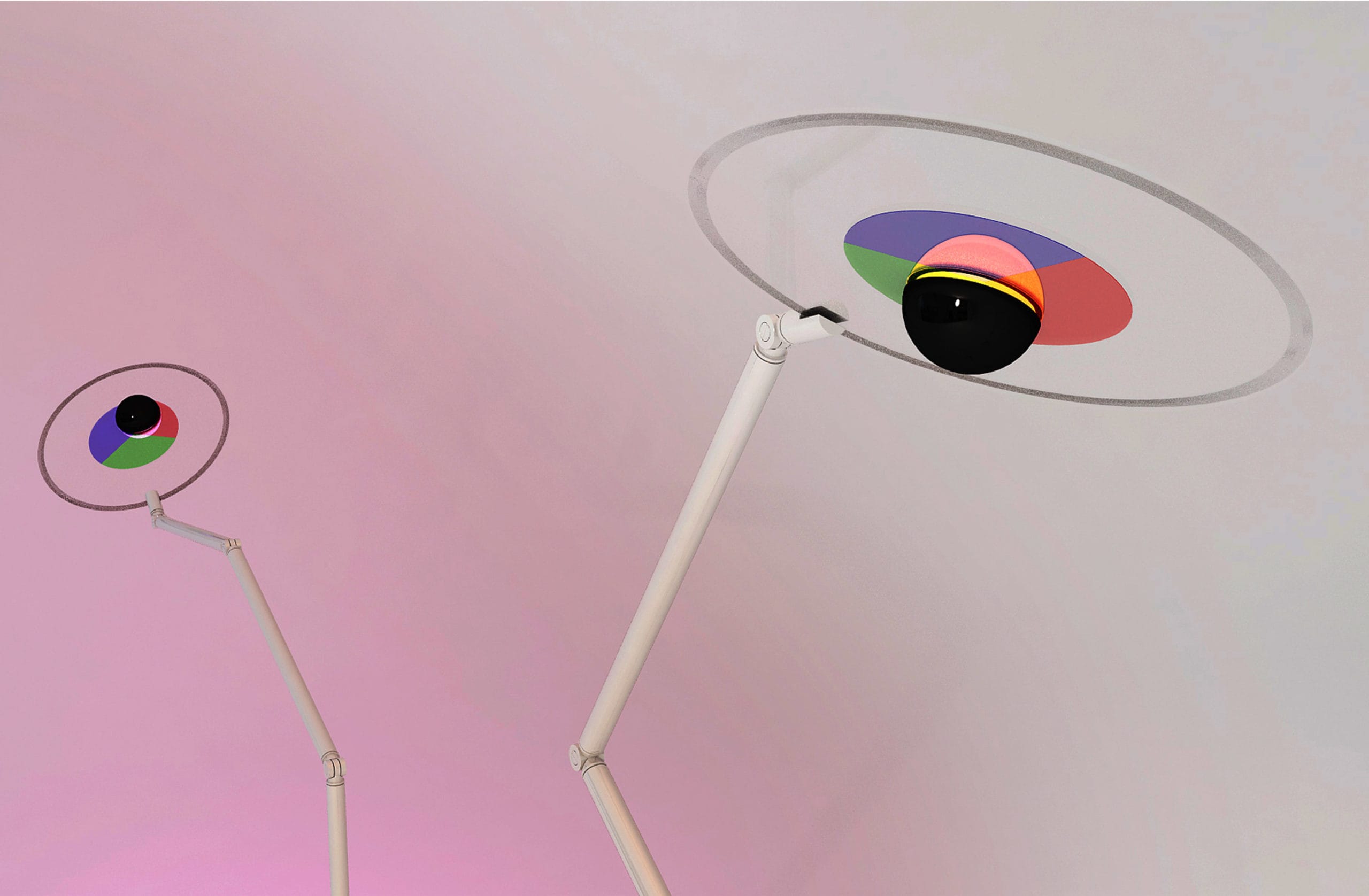 COLOR DISK
Movable color changing floor lamp
STATUS: concept and protype, 2012
DESIGNER: Miklós Leits
The Color disc lamp is intentended to delight with the millions of colors of light you can create. However, there are tons of color changing lamps on the market but mainly they provide electrically driven colors by using RGB LED. In this instance the aim of The Color disc is to physically represent the many unseen yet evident scientific laws that define our world, in an 'everyday object". This is done by using only a white light lightsource colored with red,  green and blue lightfilters, analogously. It is great to discover how colors and light work, by mixing manually the proportions of the three basic of the RGB color system. The overall design of the lamp is inspired by the farthest reaches of our world that we would like to know and see beyond. The outer space with its planets and the laboratories with microscope slides. The stand follows suit, resembling of a pair of white sterile tweezers.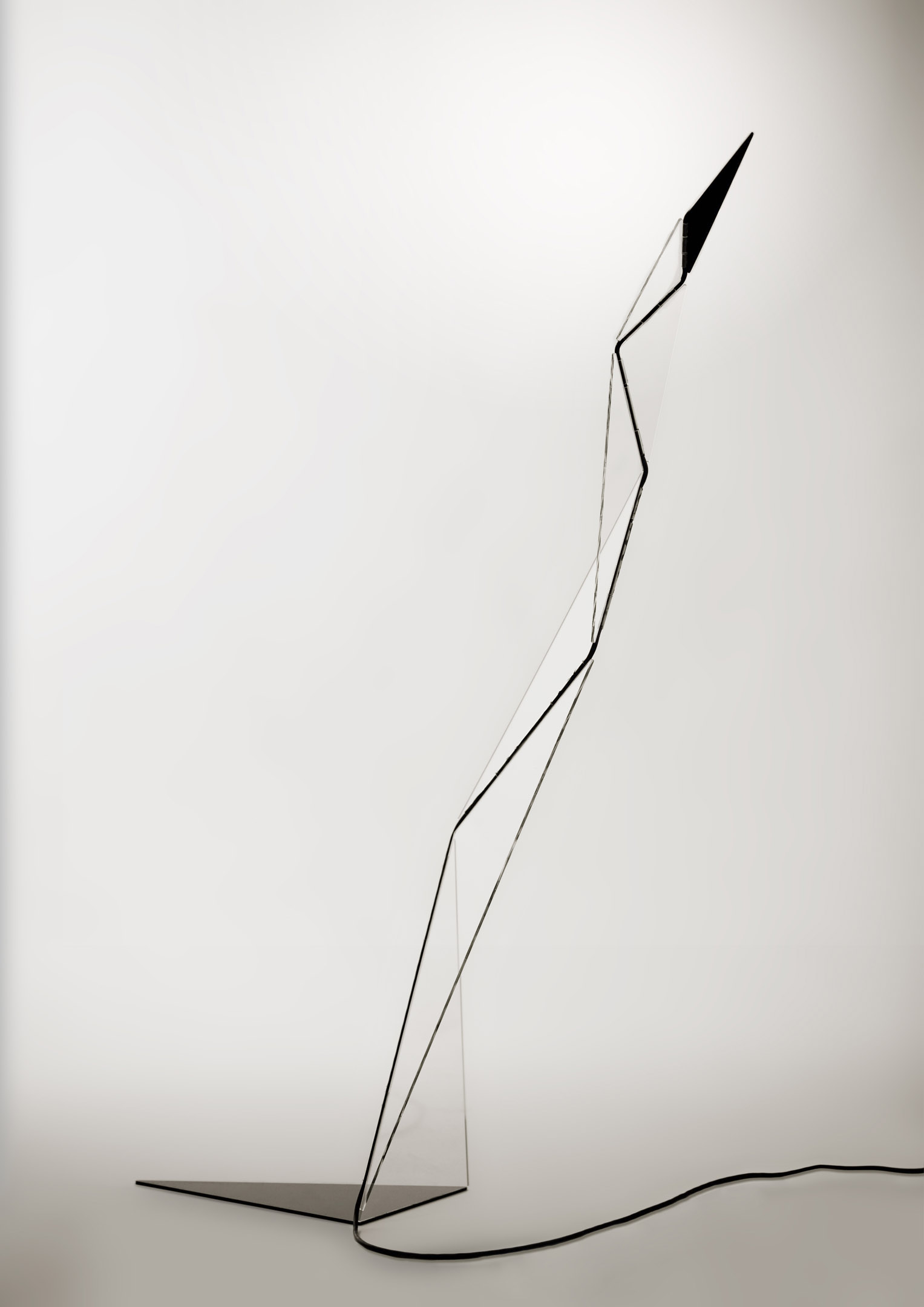 CRANE LIGHT
Adjustable sculptural floor lamp
STATUS: concept and protype, 2012
DESIGNER: Miklós Leits
Crane is both a floor lamp and a repositionable sculpture. The overall design evokes a crane   whos body is consists of basic geometric elements: triangles. All the parts are able to turn in two directions, and because the hinges are at certain angles, the sculptural lamp can create a wide variaty of 3D and dynamic shilouettes. As the cable zigzags between the almost invisibleplexiglass bodyparts it forms an abstract spacial graphic.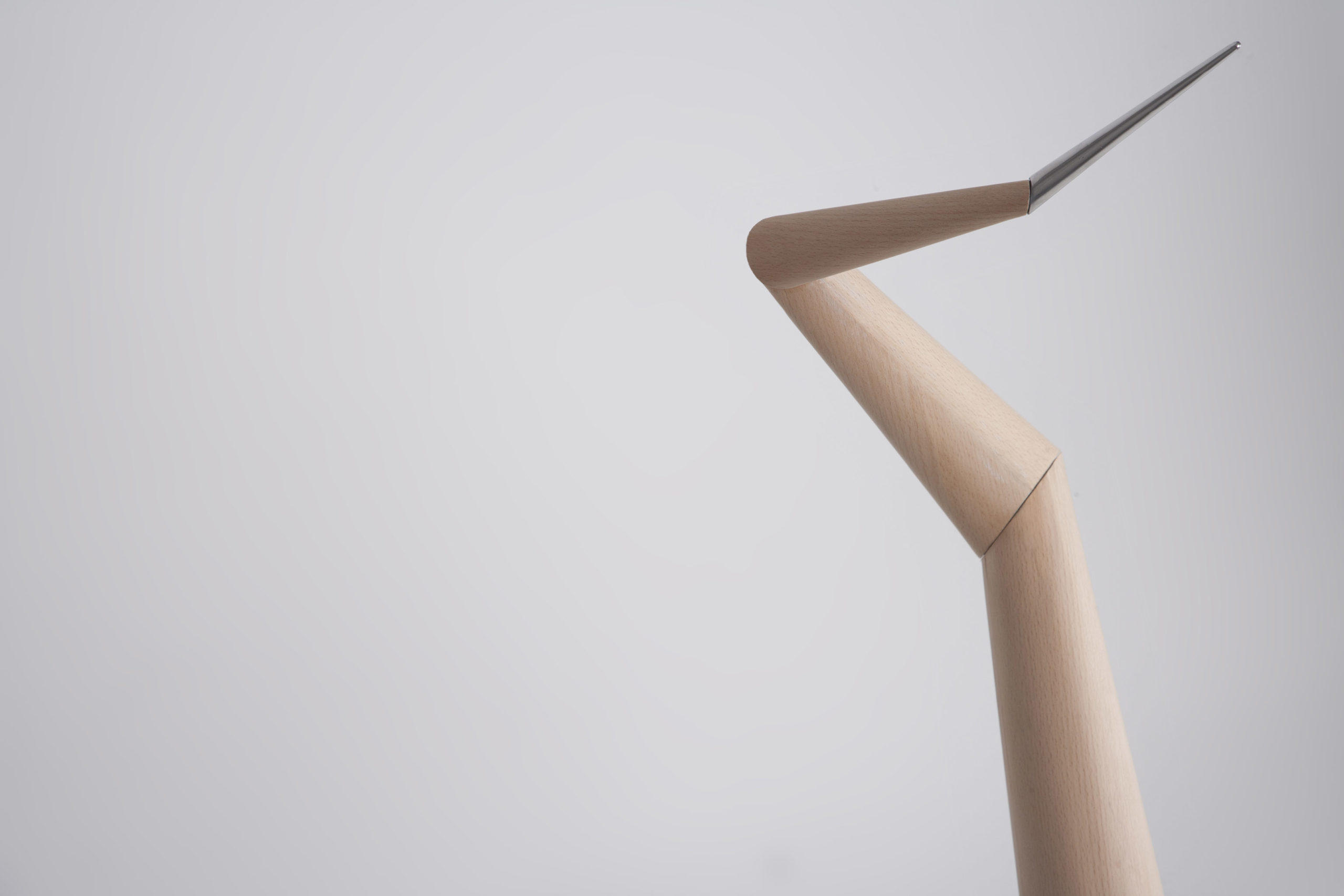 SEGMENTS
repositionable scultural table lamp.
STATUS: concept and protoype, 2013
DESIGNER: Miklós Leits
Adjustable LED reading lamp with a segmented stem, covered with beech. The design was inspired by the structure of tree branches. The base and point of this statuesque lamp are made of molded tin and the hollow elements hide the transformer and the electric wire. Light intensity can be amplified or diminished by touching the base.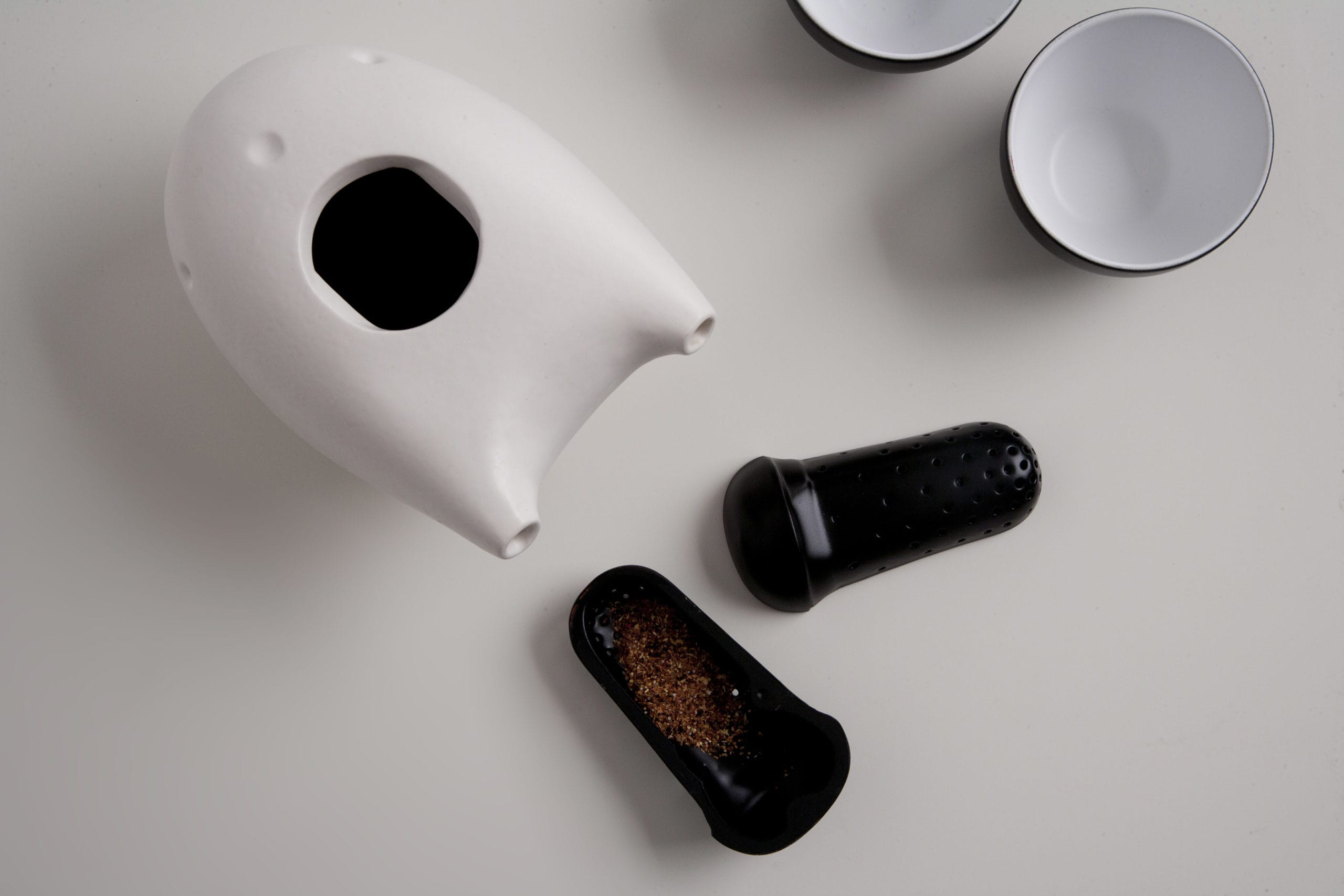 TEA FOR TWO
Teapot for two, never one.
STATUS: concept and usable ceramic protoypes in limited series, 2009
DESIGNER: Miklós Leits
MANUFACTURER: keramikum kft.- Budapest, Hungary
Sharing a moment with someone you really care for. The symbol of union and harmony between individuals defines core of the concept of this tableware: a teapot which requires two cups meaning it can only be used by two, never alone. In an abstract sense the shapes openly implies the intimate balance between the complementary masculine and feminin forces. To further symbolize the necessity of caring, embracing and unity the teapot lacks the usual handle, so it needs two hands to hold. The walls are double layered for heat insulation this way you won't burn your hands and the tea remains hot for longer.
HOMMAGE
Handmade Luminaires
As an artistic ambassador
it highlights the artworks of craftsmen.
The HOMMAGE's modular head has been specially designed for casting light on the interchangeable 
light-reflective discs. With its rotatable heads offers flexibility and mobility of all luminaires in the HOMMAGE family. Available as pendants, floor, ceiling and wallmounted luminaire. The handmade thin porcelain plates softenes the emitted light. The lights are dimmabe and can be controlled seamlessly manually or by Casambi applications.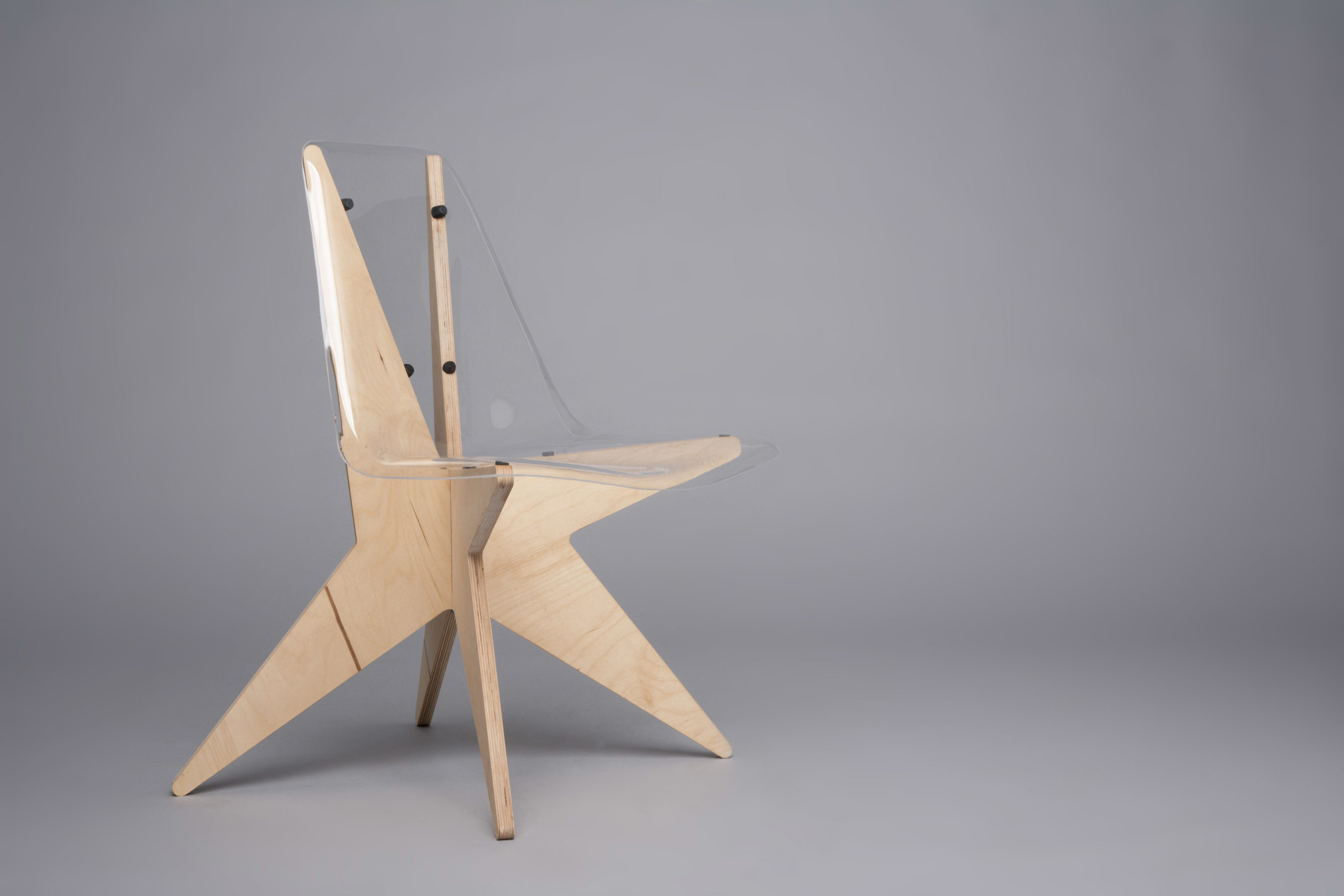 STAR CHAIR
Plywood structure and acrylic seat.
STATUS: concept and protoype, 2013
DESIGNER: Miklós Leits
This remarkably spatial composition consists of two reversed, plywood  forms. CNC technology guarantees the strength and durability of the tendons and the seams. The transparent, softly curved and thermoformed Plexiglas seat reveals the supporting framework, the shape of which is the most important aspect of this creation. The unusual leg-structure closely follows the forces operating in the material. Legs and seat have been connected by inserting glued silicon elements. The chair is available in vivid colors but also with a natural wooden surface, treated with linseed oil.
ABOUT
Miklos Leits
Miklos' works are proof of the passion and joy of experimenting with materials and techniques, taking an artisanal approach in his designs and invariably striving to achieve the perfect unity of concept and matter. As a result, his creations strike a fine balance between architecture, interior and product design.
E-Mail Address:
miklos.leits@gmail.com
I will get back to you as soon as possible.
Thank you.